ASML EUV Machine takes the size of a minibus but works with an atomic-level precession
Semiconductor chips are everywhere. Your car, smartphone and even your refrigerator may have one of several chips inside. However, did you know that a company in the Netherlands has a 100% monopoly in the global chip manufacturing processes? They control almost all tech brands, such as Apple, Samsung and even Intel.

Recently, there has been massive attention to this company because the technology they own is genuinely world-changing. The entire world's technological enhancements may rely on their work!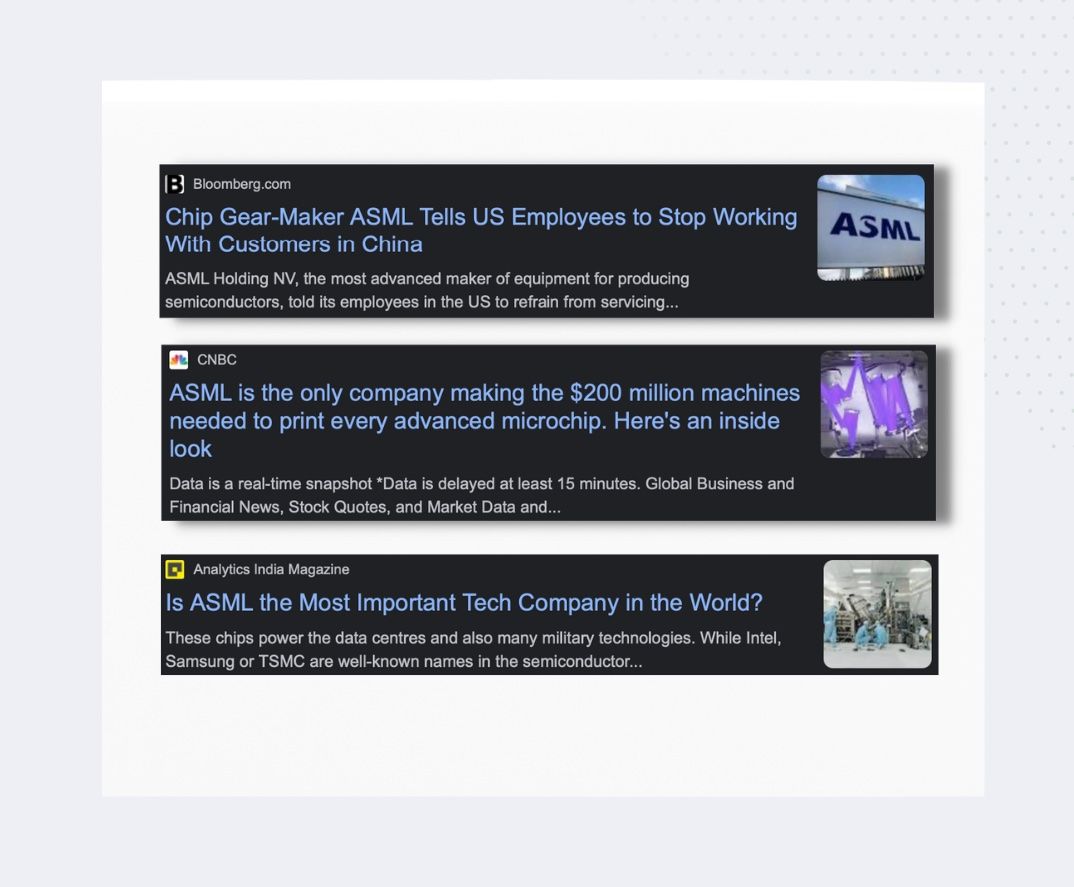 ASML (Advanced Semiconductor Materials Lithography) is a semiconductor company located in the Netherlands. They are the pioneers of making chip manufacturing machines worldwide.
---
Chip Manufacturing Process
The chip manufacturing process begins with a wafer, a large sheet of silicon sliced into smaller pieces. The pieces are then processed to create the different types of chips, and finally, the chips are packaged and sent off to be used in products. The in-detail process is available below the link.
---
Why is ASML so important?
ASML is the only company in the world that makes EUV lithography systems.
ASML has the technology for building chip manufacturing machinery with extreme ultraviolet lithography (EUV). EUV is the state-of-the-art technology required to make the most advanced chips by leading tech giants like Apple, Intel and Samsung.

ASML holdings has the monopoly because the Extreme Ultraviolet (EUV) lithography machines they build are among the most complicated devices ever made. This technology is so complex that it has taken China years to crack.
This EUV machine takes a size similar to a mini-bus, but it works an atomic level precision!
ASML says the accuracy of EUV lithography is like shooting a laser gun from the moon to hit a coin on the planet earth. And the ASML EUV machines are built as 7 different sub-modules, and transporting a finished machine takes 20 trucks and 3 fully-loaded 747 aeroplanes. Because of this one of its kind machinery, ASML gains enormous profit, and as of now, ASML stock prices are clearly higher even than INTEL.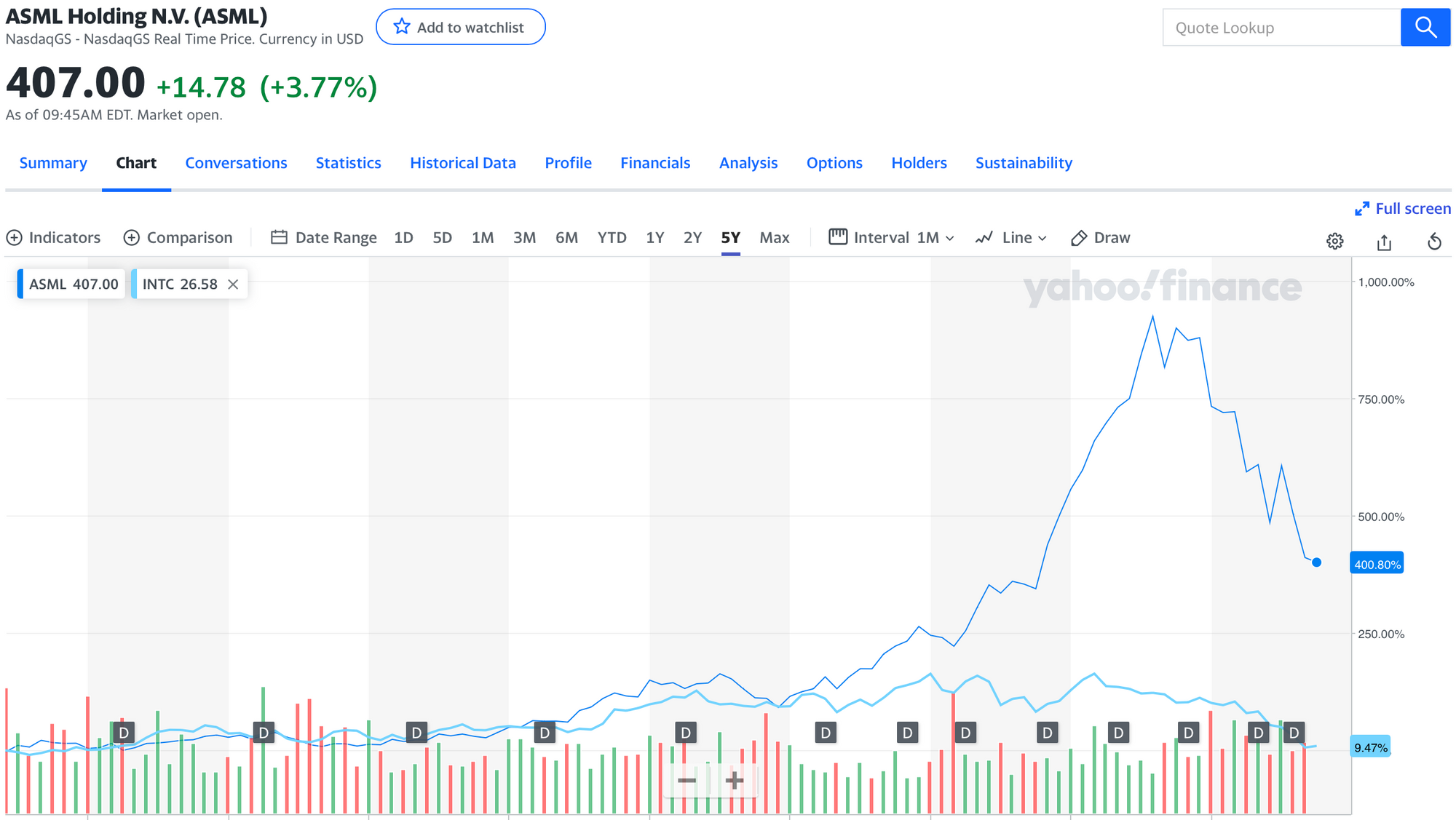 ASML sells EUV machinery to customers, including TSMC, a Taiwanese chip manufacturing company that produces high-end chips.  Because of the ASML machines, TSMC always stays one step ahead of Samsung and Intel because TSMC always goes for the latest machinery from ASML.
---
ASML was selling DUV Machines to China, but not EUV Machines
DUV lithography is the previous generation of EUV lithography. Both technologies can be used to design chips, but EUV is far more advanced, so it helps create tiny chips like 4nm or lower. Meanwhile, DUV machines can make chips around 7nms, which is enormous compared to 4nm processors.
Even though DUV is older technology, mainland China was a more prominent customer of ASML. But recently, western countries imposed many regulations on ASML banning sales to China, including DUV equipment. The main reason could be to delay China in producing more advanced technology than ASML. Also, ASML has not sold at least one EUV machine to China.
There are a few more DUV lithography machinery producers besides ASML, including Nikon. Still, ASML is the only option for EUV machinery.
---
Why is Biden's Plan to Boost Semiconductor Chip Manufacturing in the U.S. critical?
Semiconductor chips are at the heart of many modern devices, from computers and smartphones to medical devices and automobiles. But the global supply of semiconductors is increasingly coming from overseas, where production costs are lower. This trend threatens to drive up the prices of electronics and put American jobs at risk.
The semiconductor industry is worth more than $1 trillion, and the United States can play a major role in shaping the future of the global semiconductor supply chain. However, if China gets the upper hand in this semiconductor chip manufacturing process, it may badly affect many other western countries.
---
Apple beginning 3nm chip manufacturing by the end of this year, possibly will start in September
Backend firms are upbeat about demand for upcoming MacBook chips, which will be built using TSMC's 3nm process technology. According to industry sources, production is set to kick off later this year. This information aligns with a report from Taiwan's Commercial Times last week, which said TSMC would begin production of 3nm chips for Apple by the end of 2022. That report claimed that Apple's first 3nm chip may be the M2 Pro chip for Macs and added that the A17 Bionic chip in next year's iPhone 15 Pro models would also be a 3nm chip.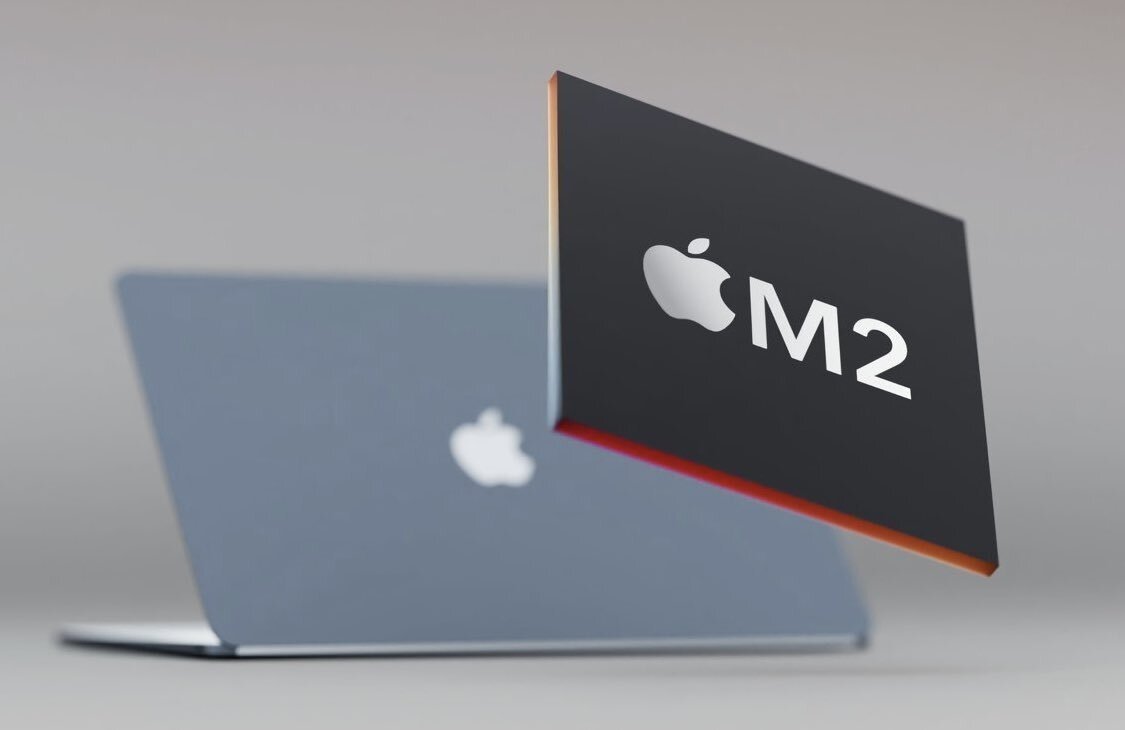 Bloomberg's Mark Gurman expects the M2 Pro chip to be used in the next 14-inch and 16-inch MacBook Pros and in a new high-end Mac mini that would replace the current Intel-based configuration. Gurman believes that Apple plans to announce multiple new Macs at an October event, but it's not entirely clear if this would include new MacBook Pro and Mac mini models or if Apple will wait to announce its first Macs with 3nm chips in 2023.
Will ASML invalidate Moore's Law?
ASML has always pushed the chip manufacturing boundaries further, yet Moore's law is still valid to date.
The number of transistors in a dense integrated circuit (IC) doubles every two years. — Gordon Moore in 1965
However, ASML plans to push further toward making machinery capable of producing 2nm processors. They call their next generation of lithography machine "high-NA EUV", which is currently in test. The world is waiting for this to be a success, even though a few other competitors are announcing that they will produce lithography machines.
---
Final Thoughts
However, ASML is the clear one and only company yet that has the potential to make this reality sooner. It might unleash an incredible performance from chips, breaking the Moore's law.
I hope you learned about ASML holdings, their technology, and how much the entire world relies on their machinery. We'll see what they are bringing in 2023; sometimes, it might be a paradigm change in CPU performance with 2nm chips. Only time will tell!
---
This blog is created with Ghost and DigitalOcean. If interested, here is a $200 free credit upon SignUp.
Learn How I Made this Blog with Ghost CMS